We are excited to announce that Cornerstone New Hope has moved and is NOW OPEN at its new location at 322 West Bridge Street!
With its large, open space, new equipment and modern industrial (but warm) aesthetic, our newest facility is eliciting "oohs" and "ahs" from everyone who walks through the door. Here is just one sample of the amazing feedback we've received since our opening:
"The new club has the same great vibe and wonderful people as I've come to love about Cornerstone over the years, but the amazing updates and new equipment make me feel like a kid in a candy store. I can't wait to continue to take advantage of all of the incredible features the new facility has to offer," says Nell Scheck, member since 2007.
So, what can you expect when you take a visit (aside from the same friendly and supportive staff who put the cornerstone in Cornerstone)? Let's take a virtual tour in words and pictures and find out!
---

Come on In: Member Services Area, Café
The first thing you'll notice when you enter the building is the spacious and welcoming new member services area. Turn to your right and walk down the hallway and you'll find yourself in the comfy café. Loaded with plenty of comfortable seating and a large bar area complete with multiple convenient outlets, this is a place where you can chat with friends over a cup of coffee or plug in your device and check your emails.
---

Spacious and Comfortable Locker Rooms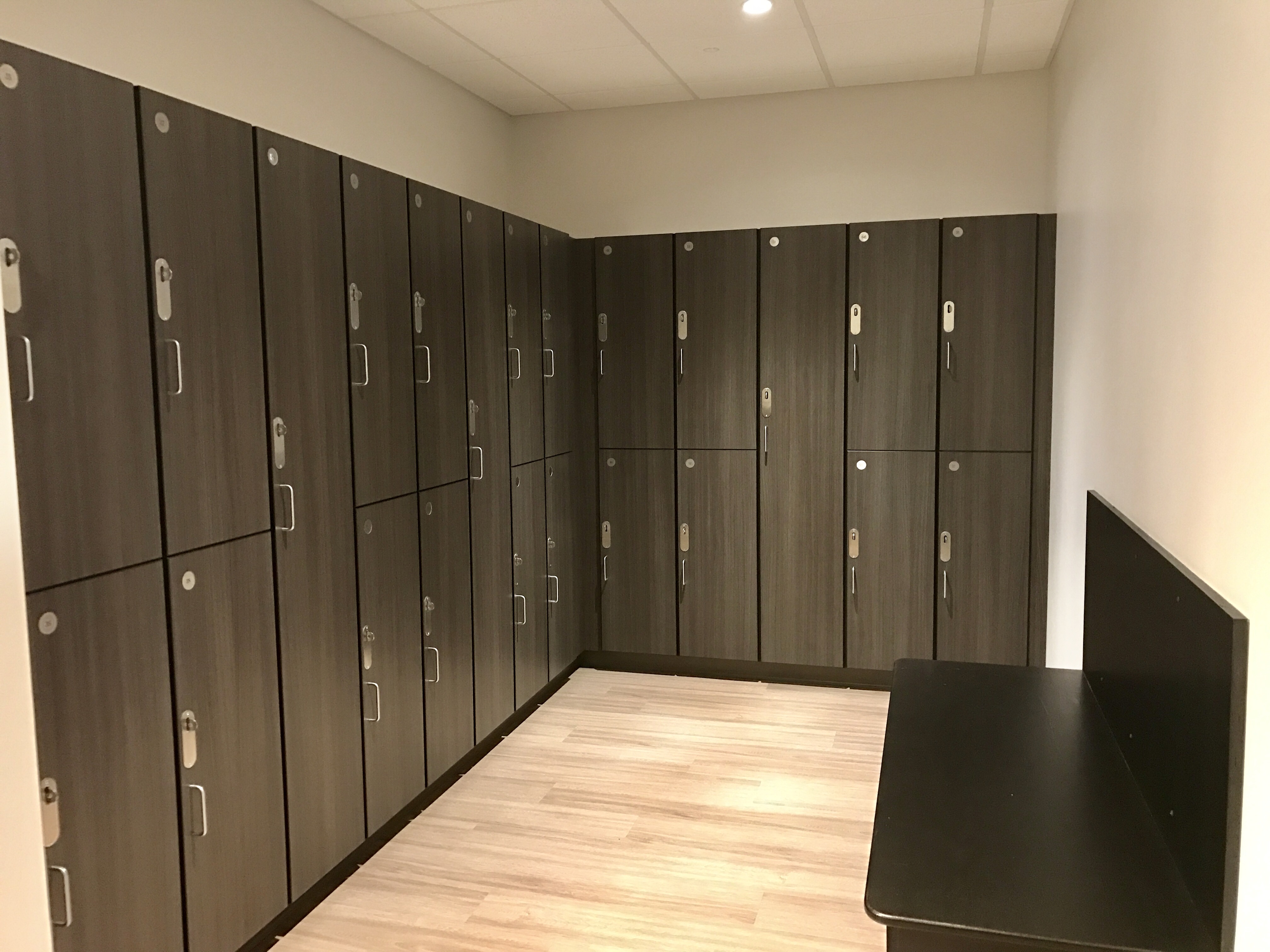 Leaving the café area, you can enter the locker rooms by walking up the ramp to the right. Large and beautifully appointed, the locker rooms have plenty of locker space and spacious saunas and showers.
---

Expansive Fitness Center With Free Weights and Innovative FreeMotion Equipment
To the left of the café, you enter our amazing new fitness center. Outfitted with rows of diverse new equipment, our cardio area will get your heart pumping.
Further down the fitness floor, is our expansive strength training area. Here you will find both a traditional line of strength training machines as well as new, state-of-the-art FreeMotion equipment. FreeMotion's innovative series of cable-based, strength-training machines allow you to target multiple muscle groups on one machine with free range of motion. They are biomechanically engineered to train the way your body moves.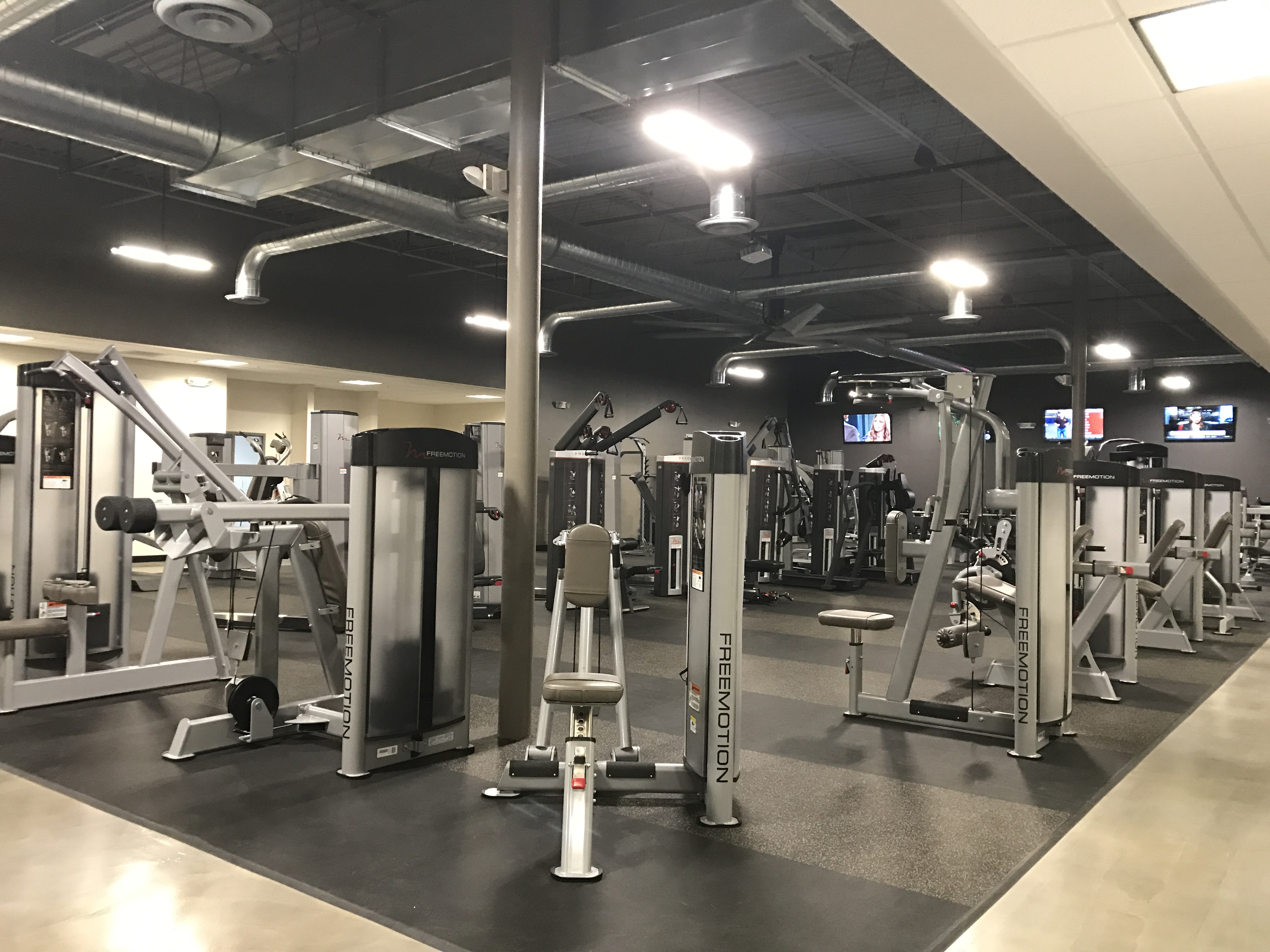 Finally, we've created a large and fully equipped free weight area with plenty of benches and brand new equipment.
---

Spinning Studio
Continuing our tour, enter the door to the left of the free weight area and you'll find yourself in the Spinning Studio. Large enough that you don't find yourself squeezed in too close to your neighbor, the Spinning Studio also features a dynamic lighting system (including a disco ball!) and a huge drop down screen allowing riders to experience both live and virtual classes.
---

Multi-area Training Room, Group Exercise Studio
To the right of the free weight area, you will find our functional training room. Actually, calling it a room is an understatement since it's a huge, flex space with multiple separate areas off the large central area allowing for personal and group training, select small group training classes and more.
Further down the hallway on the left is the new Group Exercise Studio. With its beautiful floors, high ceilings and warm colors, the Studio feels welcoming, airy and ready for you to get a sweat on!
---

Barre Studio
Our new Barre Studio is located next to Group Exercise. This studio also features beautiful floors and high ceilings, but also includes plenty of barre space, mirrors and all the other props and "toys" you need for your favorite barre or Pilates mat class.
---

Zen Annex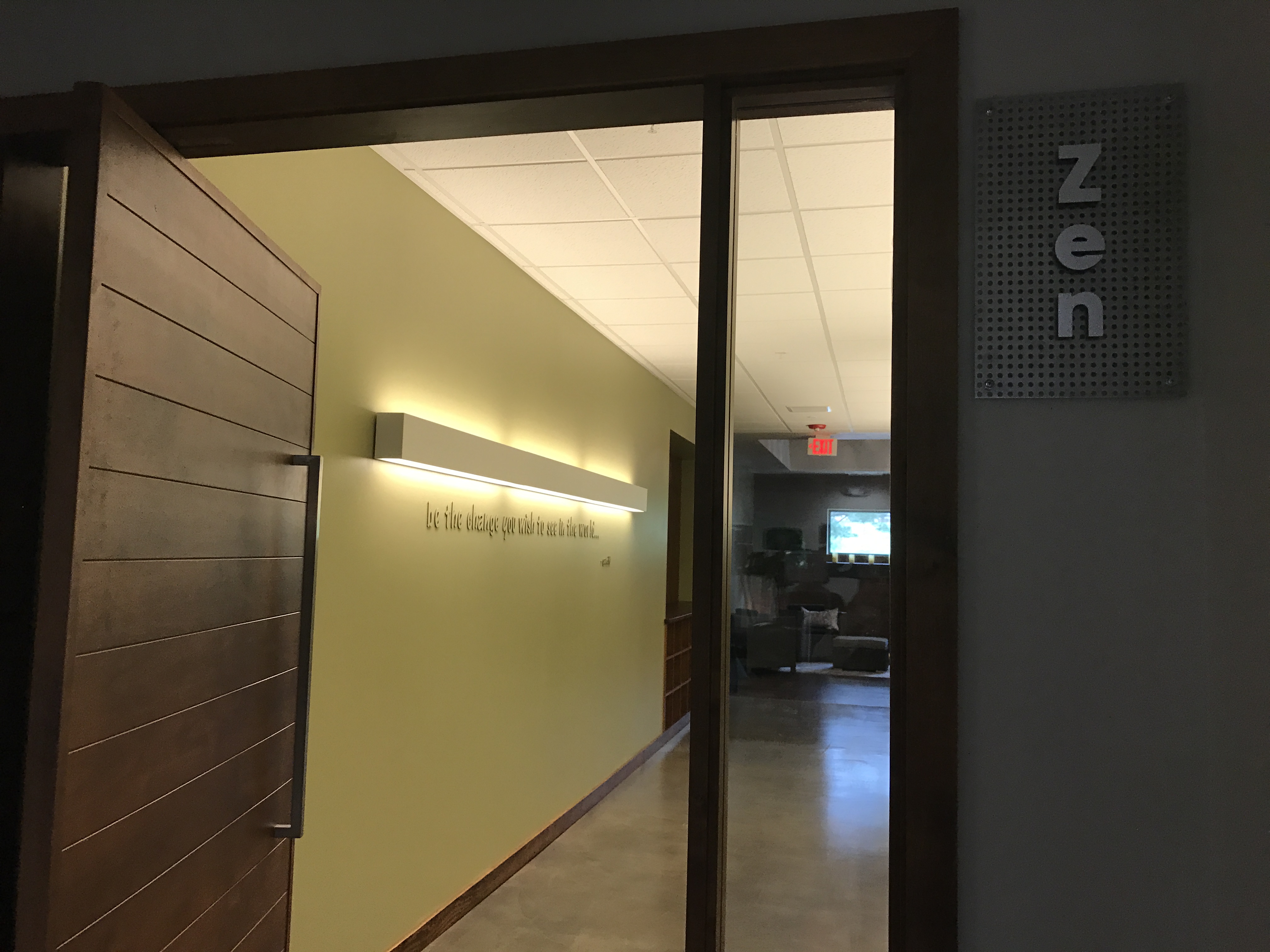 Finally, just past the entrance to the Barre Studio, you encounter a stunning wood door that seems like an invitation to another world. And, that's actually not far from the truth!
Enter this door and you enter the serene atmosphere of our Zen Annex. Set apart from the rest of the club, this area includes the Yoga Studio, Pilates Reformer Studio, massage rooms and a lovely separate lobby area where you can sit, de-stress and chat with friends to the sound of the water fountain tinkling in the background.
At this point, we have come full circle on our tour of Cornerstone New Hope's new location. Quite frankly, it's a challenge trying to convey just how amazing this beautiful new facility is in words and pictures. That's why we invite you to visit us, take a tour and experience it for yourself.
Drop in when it's convenient for you or set up an appointment to take a tour with our Membership Advisor, Marci Capel. You can contact her at 215-862-2200 or at Marci@cornerstoneclubs.com