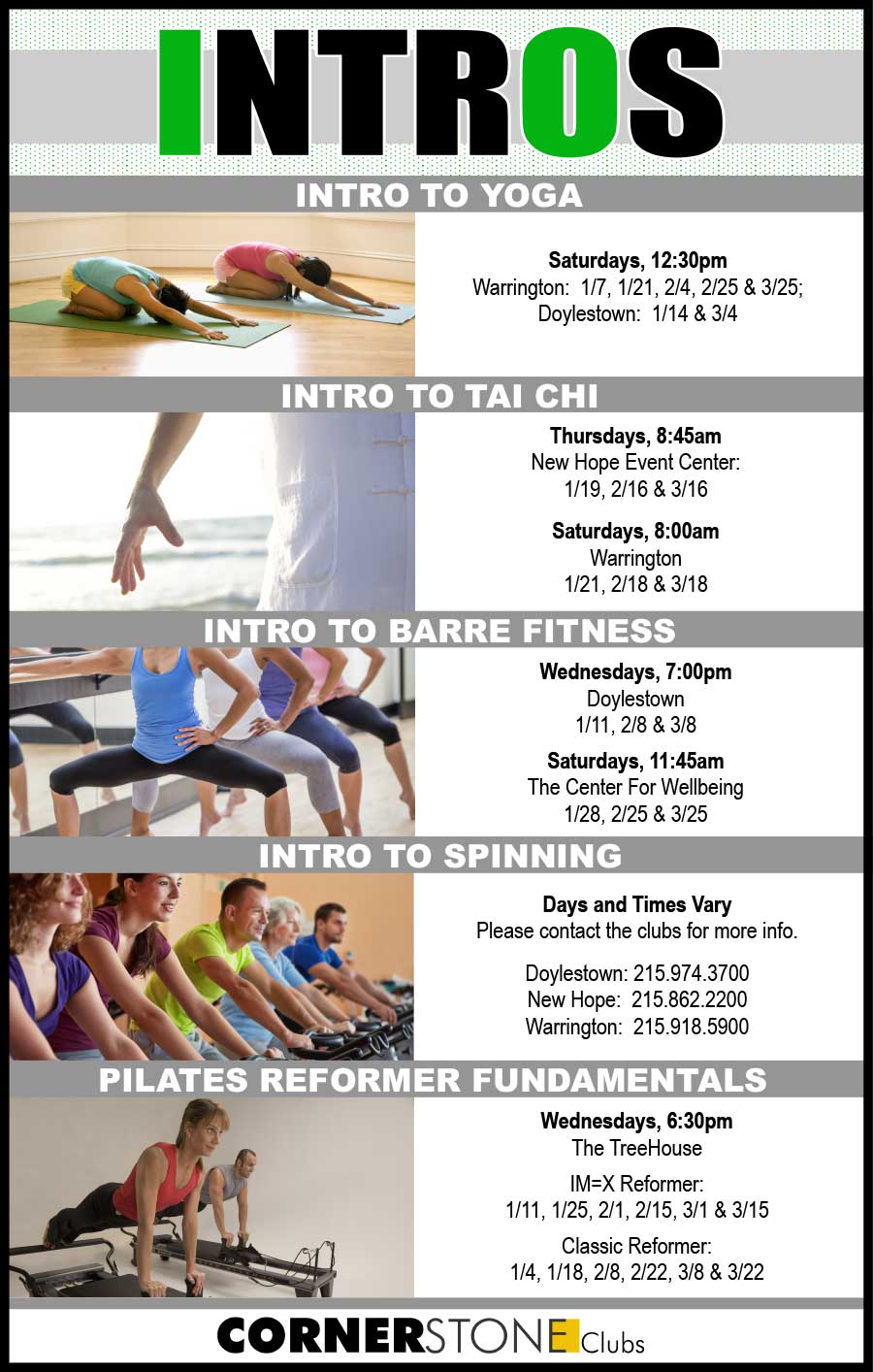 Research shows that working out in a group is effective, motivating and fun. But, for people who are new to group exercise, it can also be a little intimidating. At Cornerstone Clubs, we are committed to helping you start out on the right foot. We know that if you feel confident from the second you step on the road, you'll stay for the journey.
One way we demonstrate our commitment is by offering several introductory free fitness classes each month. These classes allow you an opportunity to try something new or different in a non-intimidating and educational way. Small class sizes guarantee personal attention that will prepare you to step right into a regularly scheduled class with confidence. These hour-long classes are available to you absolutely FREE (with the exception of Reformer Fundamentals, which costs $10).
Here are some of the free introductory group fitness classes offered by Cornerstone Clubs:
Intro to Yoga
Learn basic poses, fundamental breath and relaxation techniques and the differences between different yoga styles while having some fun! Dress in comfortable clothes and be prepared to take your shoes off. Available in Doylestown and Warrington.
Intro to Barre
Barre classes are great for sculpting, toning and working your muscles in a completely different way. Learn basic moves and terminology, as well as what to expect when you attend a regular class. Be prepared for a light workout by dressing in exercise clothing. Class is conducted in bare feet. Available in Doylestown and The Center For Wellbeing in New Hope.
Intro To Tai Chi
Learning the basic principles and postures will give you enough background to drop in to our ongoing Tai Chi Chuan classes with confidence. Learn the fundamental stances and the principles of weight shift, movement and stepping. This is not a "sit and listen" program. The emphasis is on movement, so wear loose, comfortable clothing. Available in Warrington and at The Event Center in New Hope.
Intro to Spinning
Feel confident when you walk into one of our Indoor Cycling Studios. During this class, you will learn proper bike set up, correct hand position and core movements, heart rate guidelines, safety and more. Be prepared to take a short ride by wearing exercise clothing and athletic shoes. Available in Doylestown, New Hope and Warrington.
Reformer Fundamentals
The Pilates Method is a unique and extremely effective exercise system that creates longer, leaner and stronger muscles with an emphasis on core strength, flexibility and controlled movement. Fundamentals is required prior to signing up for a regular Reformer class and includes instruction on machine set up, safety and proper body mechanics. Dress in loose clothing. Available in New Hope.
Unable to attend an introductory class? Interested in something different? Drop by any of our locations or call member services because we can help you. Our welcoming and knowledgeable staff can steer you in the right direction once we get to know you, your interests and your fitness level. With over 300 complimentary classes offered every week, we are confident that you will find something you love!